The Tory
by T.J. London
Publication Date: April 11, 2018
Paperback & eBook; 517 Pages
Series: The Rebels and Redcoats Saga, Book #1
Genre: Historical Fiction

It is the winter of 1776, and Captain John Carlisle, one of His Majesty's not-so-finest, has gone back to the scene of the crime to right a wrong so dark it left a permanent stain on what was once an illustrious career and left a man broken, defeated, in search of justice…
In an effort to win back his commission, he must discover the true nature of the relationship between the Six Nations of the Iroquois and the Colonial Army. Undercover as a war profiteer, John travels to the treacherous Mohawk River Valley and infiltrates local society, making friends with those he's come to betray.
But a chance meeting with a beautiful half Oneida innkeeper, whose tragic history is integrally linked to his own, will provide him with the intelligence he needs to complete his mission—and devastate her people.
Now, as the flames of war threaten to consume the Mohawk Valley, John has the chance to not only serve King and country, but to clear his name. When the truth he uncovers ties his own secrets to those in the highest positions of the British military and threatens the very life of the woman he's come to love, he will be forced to make a choice…
"The pages fly as you immerse yourself in this fantastic adventure." – RT Book Reviews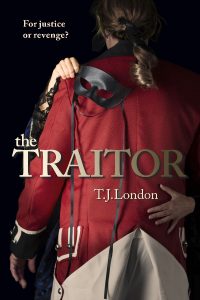 The Traitor
by T.J. London
Publication Date: October 26, 2018
eBook; 574 pages
Series: The Rebels and Redcoats Saga, Book #2
Genre: Historical Fiction
Spy. Liar. Scoundrel. Redcoat.
Provocateur and spy for His Majesty, Captain John Carlisle returns to Fort Niagara with the secrets he stole in the arms of the beautiful Oneida innkeeper, Dellis McKesson. Determined to complete his mission and clear his name, he'll see justice done—and damn the consequences. Now, he finds himself drawn into political intrigue as the British prepare to launch a three-pronged attack that will bring the Rebels and the Mohawk River Valley to its knees.
A dangerous revelation finds Dellis as whispers of intrigue insinuate her beloved is not all that he seems. Unwilling to wait for her lover's return, she sets out in search of the truth as the Onieda begin negotiations with the Rebels, breaking the neutrality agreement with the crown. A bold move that will stoke a fire between the brother tribes and lead to a bloody inter-confederacy war—one Dellis predicted, and one John incited.
While war between the colonies and the King smolders, the punishing winter of 1777 allows the perfect opportunity for old enemies to settle scores, lying in wait, ready to exploit John's one weakness—his heart. John is not an innocent man. The truth he's long tried to hide from can no longer be ignored, the ghosts of the past seeking justice, and karma wanting payment for sins so dark they cannot be forgiven.
About the Author
T.J. London is a rebel, liberal, lover, fighter, diehard punk, and pharmacist-turned-author who loves history. As an author her goal is to fill in the gaps, writing stories about missing history, those little places that are so interesting yet sadly forgotten. Her favorite time periods to write in are first and foremost the American Revolutionary War, the French Revolution, the French and Indian War, the Russian Revolution and the Victorian Era. Her passions are traveling, writing, reading, barre, and sharing a glass of wine with her friends, while she collects experiences in this drama called life. She is a native of Metropolitan Detroit (but secretly dreams of being a Londoner) and resides there with her husband Fred and her beloved cat and writing partner Mickey.
Excerpt:
"Gotcha," DeLancie said, triumphantly. Adrenaline fueled his sprint, giving him the speed and agility of a buck in the woods. Bloody tracks stained the pure-white snow like a trail of perfectly laid breadcrumbs leading him to his prey, one by one, faultlessly spaced out, until they suddenly stopped. 
Turning around in a circle, DeLancie surveyed the trees, his eyes tracking up and down, searching. It was his favorite part of the hunt, the resistance, one last, desperate effort to get away before the inevitable defeat. But in the end, they all went down the same way, man or animal, with wide-eyed fear so tangible it flavored his tongue like salty-pork-and-sweet-cherry victory. "Where are you, Oneida? I'll find you, and when I do, I'll cut your heart out and eat it for my sup."
Putting his musket down, he knelt on the ground, looking for tracks, but it was too dark; the same moonless sky that shrouded his advance camouflaged the injured Oneida's retreat. 
DeLancie heard a whistling sound in the distance, but he couldn't determine what direction it was coming from. 
"Coward!" he yelled when the whistling started again, taunting his ire to a blaze. "Hide all you like; I'll take my vengeance out on your men."
That's exactly what he'd do. As he started to retreat, the voice on the wind called to him, and obsidian eyes once again glared back at him through the trees. 
Justice…
"Who are you?" DeLancie raged, lifting his musket and aiming it. The eyes disappeared then reappeared next to him, but that time, there was the outline of a fine, beloved form, her jet-black hair blowing in the breeze. She stretched out her hands to him and repeated the word in a breathy refrain.
Justice…
Instead of firing the gun, Roger put the stock end down and reached out his hand, their fingertips mere inches from each other. He stretched his arm, trying to get to her. So close. Just one touch. How he'd dreamed of her, wanted her. "Lily," he whispered, full of longing, but she disappeared before he could reach her. 
Damned teasing devils, once again hexing him with their heathen ways. He clenched his fist against the stabbing pain in his heart—forever denied her love. He'd make them pay. He'd make them all pay.
Blog Tour Schedule
Monday, November 5
Interview at Passages to the Past
Tuesday, November 6
Review at For the Sake of Good Taste (The Tory)
Wednesday, November 7
Guest Post at Let Them Read Books
Feature at Historical Fiction with Spirit
Thursday, November 8
Review at Hoover Book Reviews
Friday, November 9
Review at Pursuing Stacie (The Tory)
Excerpt at Donna's Book Blog (The Tory)
Tuesday, November 13
Review at Jorie Loves a Story (The Tory)
Review at For the Sake of Good Taste (The Traitor)
Wednesday, November 14
Excerpt at Spellbound By History
Thursday, November 15
Feature at Donna's Book Blog (The Traitor)
Friday, November 16
Review at LadyJ's Bookish Nook (Both)
Review at Pursuing Stacie (The Traitor)
Review at Jorie Loves a Story (The Traitor)
Giveaway
During the Blog Tour we will be giving away 3 sets of both books in Paperback, 3 sets of both books in eBook, and a $50 Amazon Gift Card! To enter, please see the Gleam form below.
Giveaway Rules
-Giveaway ends at 11:59 pm EST on November 16th. You must be 18 or older to enter.
-Giveaway is open to readers in the US & Canada only.
-Only one entry per household.
-All giveaway entrants agree to be honest and not cheat the systems; any suspect of fraud is decided upon by blog/site owner and the sponsor, and entrants may be disqualified at our discretion.
-Winner has 48 hours to claim prize or new winner is chosen.
Enter Giveaway