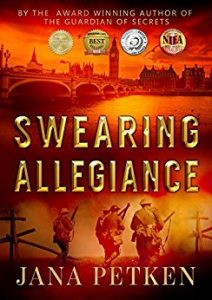 Publisher: JCP Publishing (29 Mar. 2016)
     Pages: 456
    Genre: Historical Fiction
Amazon US
Amazon UK
BOOK DESCRIPTION
An Irish Easter uprising lays waste to Dublin and fractures a British Empire struggling to supply men and arms to defeat Germany.
In Dublin's ruins, the affluent and celebrated Carmody family are not only forced to confront the rebellion's devastating effects on their personal lives but also the terrible secrets and lies uncovered in the midst of grief.
Forced to abandon their home in the Irish capital for London, each family member must strive to survive poverty, the horrors of war, and personal bouts with excessive pride and passion – but loyalty to family proves to be the most difficult cross to bear.
Danny, the youngest, is an Irish Republican rebel who risks everything to fight for an independent Ireland.
Patrick, a surgeon, swears allegiance to Britain and joins His Majesty's Royal Navy, which is engaged in tense battles to control the seas.
Jenny, self-entitled and strong willed sees her wedding plans and grand ambitions disintegrate. With a fiancé incarcerated in a rebel prison camp and no prospects of her own, she faces a dismal life in one of London's munitions factories – until a personal, cataclysmic event changes her life and perception of love forever.
"It is good to read such an enthralling account of the period with well-drawn characters to genuinely care about – this is a real page turner."
PRAISE FOR THE AUTHOR
Winner of the 2017 outstanding historical book of the year, The IAN Awards
Silver Medallist, the 2017 Readers' Favourite Awards
The 2017 Finalist, Indie Excellence Awards.
The multi-award-winning author of The Guardian of Secrets, Dark Shadows, and The Errant Flock presents the Multi Award Winning, Swearing Allegiance: The Carmody Saga.
"A rich, eloquent story of love and betrayal set during the First World War"

ABOUT THE AUTHOR
Hello everyone I joined the (British) Royal Navy at the age of seventeen. I was a leading Naval Policewoman, equivalent to a sergeant in the military police. After the Navy, I went to work for a travel company as an overseas representative. During the first Gulf War I was a security guard at the BBC World Service radio station. After I left the BBC, I spent twelve years as a bodyguard for a Saudi Princess. Later, I found a new career as a cabin-crew member for British Airways, which allowed me to travel extensively to every corner of the world, at least two or three times. I have never been to New Zealand – a pity, or to Iran, which would have been an eye opener. Unfortunately, I had an accident on board a flight. The aircraft, a Boeing 747, was flying at 39,000 feet above Africa when it was caught in clear-air turbulence. As the plane dropped my body flew upward causing my head to hit the cabin's ceiling. As a result of this accident, I have had three major operations on my spinal cord and am now retired. I missed the busy and interesting experiences that my job had brought me, thus turning my attention to writing.