From Across the Room
by Gina L. Mulligan
Publication Date: September 15, 2016
Five Star Publications
Hardcover & eBook; 271 Pages
Genre: Historical/Epistolary

Self-indulgent young writer Thomas Gadwell has traveled from Boston to the new Hotel Del Coronado in California to at last finish his novel when he meets the clever and headstrong Miss Mary Harting. At once Thomas tosses aside his literary pursuits for a charmed summer of romance that ends with the happy couple making future plans. However, Mary Harting is the only unmarried daughter of notorious railroad tycoon Charles Harting, and he has no intention of letting a useless wordsmith derail his own critical plans for Mary. The couple must continue a clandestine courtship, but Thomas' ingenuity has unexpected repercussions and he unwittingly uncovers a sinister plot of deception, greed, and blackmail. Guided by mentor Henry James, to win Mary, Thomas must step from the pages of the world he creates to explore his own insecurities, battle against worldly corruption, and expose family demons.
Told through a series of clever, heartfelt, and engaging letters, From Across the Room is a voyeuristic escapade that delights at every twist. Reflecting back to a time when letters were saved in the imagination of the reader, the lost art of letter writing brings to life the opulent Gilded Age and unfolds the universal passions of love, ambition, and the resilient bonds of family.
Praise for From Across the Room
"A passionate love story set in a brilliantly recreated Gilded Age, this intimate epistolary novel takes the reader from a wide-open California to the salons of literary and industrial New York. Colorful and indelible characters stride across the pages of this exceptionally vivid historical novel that brings the past stirringly to life." -Diana Birchall, Bestselling Author of Mr. Darcy's Dilemma
"Gina Mulligan's impeccable prose, engaging characters, and original style reminds us all why we love to read." -Reza Kahlili, 2010 National Best Books winner for A Time to Betray
"The characters have richly defined voices and fascinating lives that sparkle against a transcontinental history of America at the beginning of the twentieth century." -Jessica Klein, Award-winning Writer/Producer of Northern Exposure, Beverly Hills 90210, Gabriel's Fire and other popular TV series.
About the Author
Gina L. Mulligan is a veteran freelance journalist for numerous national magazines and the author of the award-winning novel, REMEMBER THE LADIES and FROM ACROSS THE ROOM. After her own diagnosis, Gina founded Girls Love Mail, a charity that collects handwritten letters of encouragement for women with breast cancer. She was honored for her charitable work on the nationally syndicated television talk show The Steve Harvey Show, People.com, and TODAY.com.
EXCERPT 
June 6, 1888.
DEAR AVERY —
In another age my kind was near extinction, killed in battle while struggling to put on chainmail. Today a writer can travel to a seaside resort, slouch on a padded lounge, and appraise your furious letter in comfort. Rest assured I am toiling away on the book, but as a matter of principle, I must refute your accusation I am again irresponsible. Again? You know my pages were delayed last time due to a simple miscalculation. According to my lunar calendar, I was a month early. Nevertheless, this time my delay in sending the promised chapters was unavoidable and shows a depth of character you might also find hard to believe. 
Are you at least curious why I journeyed all the way to the Hotel Del Coronado to find my muse? A hotel is the ideal setting. The onslaught of fresh arrivals provides constant fodder while the locale ensures variety. True, high season calls for stamina; writing requires such keen skills of observation. Though some are born with this gift, the rest of us must learn the nuances of peering and loitering while enduring the occasional knock on the head with a beaded evening bag. You see what I must suffer for your greatness and the publisher's profits?
Before you fling your spectacles and run your thick fingers through your thin hair, I am not in the least trying to be flippant. I am well aware that, as my agent, your income is based on my hard work, and losing Harper & Brothers Publishing is a distasteful consequence we both wish to avoid. My career is dependent on the publisher and their dotted line so let me explain my tardiness with enough background and detail to appease, nay impress, our good friends at Harpers. 
Though the hotel offers many diversions, I abstained from the temptation of billiards and chess and set out my writing supplies even before unpacking. You see, Avery, right to work. Looking for inspiration, I even arranged a city tour. After a turn through the respectable streets of San Diego, a few extra coins persuaded my hackney driver to take me to the Stingaree District. In contrast to the luxury of the hotel, this area is described only in whispers and my intent was a quick survey to jot down scenery notes. 
San Diego was built around the Mission Basilica and remnants of Spanish settlements. Along with drab wooden storefronts, much of the city proper is laden with handmade signs advertising clean office space and cheap irrigation supplies. It seems San Diego has stalled for need of water and respectable industry. Of course men always find ways to occupy their time. I just wonder what Father Serra would think if he saw what goes on just around the corner from his mission.
Trainloads of high-flying men in shirtsleeves blanketed walkways lit more by cigars than the dirty lamps, and powdered chippies in purple corsets were draped over balconies like flags on Decoration Day. I stepped over men gambling and passing jugs of Tarantula Juice right on the street corners, then a pitch-man with a greasy complexion slapped a pot of milky cream in my hand and said, "For the French Pox." Before I could react, a harlot with ruby cheeks and a vacant stare offered me a way to need the jar of ointment.
Unrecognizable music blared from every direction, and my disgust at the scene was almost bested by the smell. The stench from the chickens, horses, and opium dens (their curtains parted to calloused deputies) was so thick not even the sea breeze could carry it away. 
The district is small, so with the end in sight, I turned to go back, when all of sudden I was shoved and fell right into a stack of hay. The landing was soft but my surprise meant I also got a literal taste of the area. As I spit out sprigs and brushed bits from my waistcoat, I spotted my assailant: a woman running down the walkway with fistfuls of her skirt hiked up to her knees. She was chasing a man.
In truth, what caught my attention was the lady's bloomers. Shenanigans are expected in such an area, but I could tell by the pastel brocade lace that the owner was not one of the regulars. I watched as the woman pursued the fleeing man around a corner. When I then heard her scream, I sprung into action like a mother cheetah. 
To avoid the crowded walkway, I darted around a hitching post and hurled myself into the street. Just as my feet hit the dirt, a chuck wagon swerved and I scrambled back into my haystack. Ignoring the driver's profanity, I regained my balance and charged down the center of the road, leaving a feed trail.
My pulse quickened until I no longer heard the awful music. As I ran toward the scream, my jacket caught on a piece of wood jutting from one of the buildings. I spun with the grace of a discus Olympian and slipped free in one fluid motion. A few more steps and I rounded the corner. My pounding heart seized as I skidded to a stop.
Blog Tour Schedule
Monday, November 26
Review at Creating Herstory
Excerpt at Spellbound by History
Tuesday, November 27
Review at Pursuing Stacie
Wednesday, November 28
Review at Jathan & Heather
Thursday, November 29
Review at Tar Heel Reader
Review at Svetlana's Reads and Views
Friday, November 30
Review at A Holland Reads
Saturday, December 1
Review & Guest Post at Clarissa Reads it All
Monday, December 3
Review at Jorie Loves a Story
Review at A Chick Who Reads
Tuesday, December 4
Review at CelticLady's Reviews
Excerpt at What Is That Book About
Wednesday, December 5
Interview at Passages to the Past
Thursday, December 6
Review at Peppermint Ph.D.
Friday, December 7
Interview at Jorie Loves a Story
Monday, December 10
Guest Post at Let Them Read Books
Tuesday, December 11
Review at Passages to the Past
Wednesday, December 12
Review at Laura's Interests
Friday, December 14
Review at 100 Pages a Day
Monday, December 17
Review & Excerpt at Locks, Hooks and Books
Tuesday, December 18
Feature at Broken Teepee
Wednesday, December 19
Review & Excerpt at The Book Junkie Reads
Thursday, December 20
Review at Bri's Book Nook
Friday, December 21
Review at The Book Mind
Guest Post and Excerpt at Confessions of an Avid Reader
Giveaway
During the Blog Tour we will be giving away 3 copies of From Across the Room & Stationary! To enter, please enter via the Gleam form below.
Giveaway Rules
–Giveaway ends at 11:59 pm EST on December 21st. You must be 18 or older to enter.
–Giveaway is open to US residents only.
–Only one entry per household.
–All giveaway entrants agree to be honest and not cheat the systems; any suspect of fraud is decided upon by blog/site owner and the sponsor, and entrants may be disqualified at our discretion.
–Winner has 48 hours to claim prize or new winner is chosen.
Enter Giveaway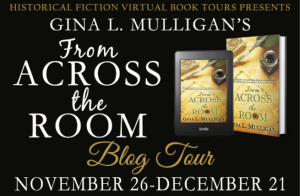 The Tory
by T.J. London
Publication Date: April 11, 2018
Paperback & eBook; 517 Pages
Series: The Rebels and Redcoats Saga, Book #1
Genre: Historical Fiction

It is the winter of 1776, and Captain John Carlisle, one of His Majesty's not-so-finest, has gone back to the scene of the crime to right a wrong so dark it left a permanent stain on what was once an illustrious career and left a man broken, defeated, in search of justice…
In an effort to win back his commission, he must discover the true nature of the relationship between the Six Nations of the Iroquois and the Colonial Army. Undercover as a war profiteer, John travels to the treacherous Mohawk River Valley and infiltrates local society, making friends with those he's come to betray.
But a chance meeting with a beautiful half Oneida innkeeper, whose tragic history is integrally linked to his own, will provide him with the intelligence he needs to complete his mission—and devastate her people.
Now, as the flames of war threaten to consume the Mohawk Valley, John has the chance to not only serve King and country, but to clear his name. When the truth he uncovers ties his own secrets to those in the highest positions of the British military and threatens the very life of the woman he's come to love, he will be forced to make a choice…
"The pages fly as you immerse yourself in this fantastic adventure." – RT Book Reviews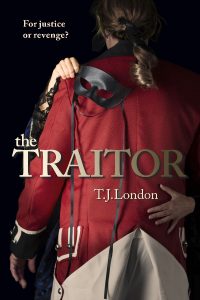 The Traitor
by T.J. London
Publication Date: October 26, 2018
eBook; 574 pages
Series: The Rebels and Redcoats Saga, Book #2
Genre: Historical Fiction
Spy. Liar. Scoundrel. Redcoat.
Provocateur and spy for His Majesty, Captain John Carlisle returns to Fort Niagara with the secrets he stole in the arms of the beautiful Oneida innkeeper, Dellis McKesson. Determined to complete his mission and clear his name, he'll see justice done—and damn the consequences. Now, he finds himself drawn into political intrigue as the British prepare to launch a three-pronged attack that will bring the Rebels and the Mohawk River Valley to its knees.
A dangerous revelation finds Dellis as whispers of intrigue insinuate her beloved is not all that he seems. Unwilling to wait for her lover's return, she sets out in search of the truth as the Onieda begin negotiations with the Rebels, breaking the neutrality agreement with the crown. A bold move that will stoke a fire between the brother tribes and lead to a bloody inter-confederacy war—one Dellis predicted, and one John incited.
While war between the colonies and the King smolders, the punishing winter of 1777 allows the perfect opportunity for old enemies to settle scores, lying in wait, ready to exploit John's one weakness—his heart. John is not an innocent man. The truth he's long tried to hide from can no longer be ignored, the ghosts of the past seeking justice, and karma wanting payment for sins so dark they cannot be forgiven.
About the Author
T.J. London is a rebel, liberal, lover, fighter, diehard punk, and pharmacist-turned-author who loves history. As an author her goal is to fill in the gaps, writing stories about missing history, those little places that are so interesting yet sadly forgotten. Her favorite time periods to write in are first and foremost the American Revolutionary War, the French Revolution, the French and Indian War, the Russian Revolution and the Victorian Era. Her passions are traveling, writing, reading, barre, and sharing a glass of wine with her friends, while she collects experiences in this drama called life. She is a native of Metropolitan Detroit (but secretly dreams of being a Londoner) and resides there with her husband Fred and her beloved cat and writing partner Mickey.
Excerpt:
"Gotcha," DeLancie said, triumphantly. Adrenaline fueled his sprint, giving him the speed and agility of a buck in the woods. Bloody tracks stained the pure-white snow like a trail of perfectly laid breadcrumbs leading him to his prey, one by one, faultlessly spaced out, until they suddenly stopped. 
Turning around in a circle, DeLancie surveyed the trees, his eyes tracking up and down, searching. It was his favorite part of the hunt, the resistance, one last, desperate effort to get away before the inevitable defeat. But in the end, they all went down the same way, man or animal, with wide-eyed fear so tangible it flavored his tongue like salty-pork-and-sweet-cherry victory. "Where are you, Oneida? I'll find you, and when I do, I'll cut your heart out and eat it for my sup."
Putting his musket down, he knelt on the ground, looking for tracks, but it was too dark; the same moonless sky that shrouded his advance camouflaged the injured Oneida's retreat. 
DeLancie heard a whistling sound in the distance, but he couldn't determine what direction it was coming from. 
"Coward!" he yelled when the whistling started again, taunting his ire to a blaze. "Hide all you like; I'll take my vengeance out on your men."
That's exactly what he'd do. As he started to retreat, the voice on the wind called to him, and obsidian eyes once again glared back at him through the trees. 
Justice…
"Who are you?" DeLancie raged, lifting his musket and aiming it. The eyes disappeared then reappeared next to him, but that time, there was the outline of a fine, beloved form, her jet-black hair blowing in the breeze. She stretched out her hands to him and repeated the word in a breathy refrain.
Justice…
Instead of firing the gun, Roger put the stock end down and reached out his hand, their fingertips mere inches from each other. He stretched his arm, trying to get to her. So close. Just one touch. How he'd dreamed of her, wanted her. "Lily," he whispered, full of longing, but she disappeared before he could reach her. 
Damned teasing devils, once again hexing him with their heathen ways. He clenched his fist against the stabbing pain in his heart—forever denied her love. He'd make them pay. He'd make them all pay.
Blog Tour Schedule
Monday, November 5
Interview at Passages to the Past
Tuesday, November 6
Review at For the Sake of Good Taste (The Tory)
Wednesday, November 7
Guest Post at Let Them Read Books
Feature at Historical Fiction with Spirit
Thursday, November 8
Review at Hoover Book Reviews
Friday, November 9
Review at Pursuing Stacie (The Tory)
Excerpt at Donna's Book Blog (The Tory)
Tuesday, November 13
Review at Jorie Loves a Story (The Tory)
Review at For the Sake of Good Taste (The Traitor)
Wednesday, November 14
Excerpt at Spellbound By History
Thursday, November 15
Feature at Donna's Book Blog (The Traitor)
Friday, November 16
Review at LadyJ's Bookish Nook (Both)
Review at Pursuing Stacie (The Traitor)
Review at Jorie Loves a Story (The Traitor)
Giveaway
During the Blog Tour we will be giving away 3 sets of both books in Paperback, 3 sets of both books in eBook, and a $50 Amazon Gift Card! To enter, please see the Gleam form below.
Giveaway Rules
-Giveaway ends at 11:59 pm EST on November 16th. You must be 18 or older to enter.
-Giveaway is open to readers in the US & Canada only.
-Only one entry per household.
-All giveaway entrants agree to be honest and not cheat the systems; any suspect of fraud is decided upon by blog/site owner and the sponsor, and entrants may be disqualified at our discretion.
-Winner has 48 hours to claim prize or new winner is chosen.
Enter Giveaway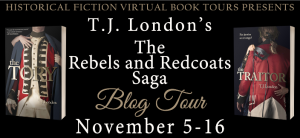 Jaws of the Wolf
Charlotte Jardine
(The Visigoth Chronicles, #1)
Publication date: October 30th, 2018
Genres: Historical, Romance, Young Adult
He's her father's slave. She's promised to another. But war changes everything.

Tervingi Territory, 376 AD. Gelvira dreams of becoming a powerful jeweler. But the arrogant son of a tribal elder wants her for a wife instead. After a Hun raid sends her people into exile, her chance to master the ancient secrets of her craft are stripped away…

Adafuns yearns to become a great warrior and win Gelvira's affection. But as a slave in her father's service, he has little chance of either. Captured and carried off by the Huns, Adafuns' dream of being a warrior could come true… at the cost of losing Gelvira forever.

With her people starving, marrying the tribal elder's spoiled son may be Gelvira's only hope to save her family. Will Adafuns reunite with the exiles in time to free Gelvira from her loathsome vows?

Jaws of the Wolf is the exciting first novel in the epic Visigoth Chronicles series of YA adventures. If you like strong heroines, thrilling action, and rich historical detail, you'll love Charlotte Jardine's page-turning saga.
—
EXCERPT:
After the meeting broke up, Gelvira sat by the fire, mulling over everything she'd heard. The wood creaked as someone sat beside her. Their reiks' son, Widin. She scowled. She wasn't in the mood to talk to him. Not after the way he'd treated Pa.
"It must be a lot to take in," Widin said. "Most of the men will be riding to war. Sorry, not to war. To rebuild old Roman fortifications." His face darkened and he compressed his lips.
"Did you come to Erdeu to round up warriors in Lord Angmar's name?" Gelvira asked.
He smiled. "Also to see you."
She glanced around. Praise the Great Mother, Ma hadn't heard. She'd be planning their wedding feast.
Widin motioned toward her amulet. "This is new. Did you make it?"
She nodded. "After the raid. I worked on it in the evenings, to take my mind off the Huns." There was no way she'd tell him its purpose.
He traced the outline of the wolf. "I would have thought flowers or birds more appropriate for a maiden?"
A shiver ran through her. A wrongness. Then heat flared from the metal.
Widin snatched his hand back. "It … burnt me. Was it made using the Becoming One?"
"Yes," she replied, head spinning with excitement. Had her amulet really done that?
He scowled. "Our people are under attack. You shouldn't be wasting your time making baubles."
"It's a practice piece," she replied, biting down on her anger. "Master Raginmar used it to teach me the rudiments of the Becoming One."
"Ah, I see." Widin's black look faded. "You must make me something useful, once you've mastered the art. I'll need the gods' aid far more than you, safe behind your palisade." He wound his fingers through hers and pulled them against his chest.
Ma noticed the gesture, and beamed.
"If it wasn't for the Huns, I'd marry you before summer's end," he said, leaning close so his breath brushed her skin. "My father would prefer I took a wife who brings more political advantage. He doesn't see it, but you've much in your favour: you're well born, brave, and quite lovely to look at. And your jewellery will bring me renown, now you're learning the Becoming One."
"You honour me," Gelvira replied, lowering her eyes so he couldn't see her dismay. Marry him after the way he'd behaved? She couldn't bear the thought. "As you said, you're a warrior. You must deal with the raiders first. At times like these, marriage must wait."
For one terrible moment, she felt almost grateful to the Huns.


Author Bio:

Charlotte Jardine writes Historical Fiction, Contemporary Romance and Romantic Adventure. Her books feature courageous heroines, big-hearted heroes, adventure and love.

Her love of history came from reading the adventures of Asterix and Tintin at a young age and continued into adult life, when she studied Classics and Roman History to postgraduate level at university.

While working as a desk slave by day, she spends her evenings escaping into other worlds via her writing.
GIVEAWAY!
a Rafflecopter giveaway