Song of Songs: A Novel of the Queen of Sheba
by Marc Graham
Publication Date: April 16, 2019
Blank Slate Press
Paperback; 400 Pages
Genre: Historical Fiction
Lift the veil of legend for the untold story of Makeda, the Queen of Sheba, and Bathsheba, wife and mother of Israelís first kings.
When Makeda, the slave-born daughter of the chieftain of Saba, comes of age, she wins her freedom and inherits her father's titles along with a crumbling earthwork dam that threatens her people's survival. When she learns of a great stone temple being built in a land far to the north, Makeda leads a caravan to the capital of Yisrael to learn how to build a permanent dam and secure her people's prosperity.
On her arrival, Makeda discovers that her half-sister Bilkis (also known as Bathsheba) who was thought to have died in a long-ago flash flood, not only survived, but has become Queen of Yisrael. Not content with her own wealth, Bilkis intends to claim the riches of Saba for herself by forcing Makeda to marry her son. But Bilkisís designs are threatened by the growing attraction between Makeda and Yetzer abi-Huram, master builder of Urusalimís famed temple. Will Bilkisís plan succeed or will Makeda and Yetzer outsmart her and find happiness far from her plots and intrigue?
Excerpt
"Water, my daughter," he said.
Rahab brought the man a copper bowl and waterskin, a small cloth over her shoulder. She poured water over his hands, catching the flow in the bowl. Eliam washed his hands then dried them on the cloth. Rahab repeated the ritual for Abram and her mother. Leah then did the same for her daughter, and the family formed a circle about a pair of candles set in a brass stand.
Leah waved her hands over the candles then covered her eyes. She intoned a prayer of thanksgiving and a plea for protection upon their journey. Bilkis missed most of the words, partly due to the northern accent, partly because of her rumbling stomach.
The prayer finished, Eliam's family sat on small rugs around the candles, and passed around a dish of flatbread and olives. 
Bilkis's resolve faded. The terror of the flood, the outrage of her capture, the indignity of Leah's examination—all these washed away as her mouth watered with the scents of the simple meal. Of their own volition, her legs carried her toward an empty rug by the candles.
"Your hands," Rahab whispered to her, indicating the copper bowl.
Bilkis dipped her hands in the bowl then dried them on the small cloth.
"And your hair," Rahab said, and patted the veil that covered her head.
Bilkis looked around but found no suitable covering. Desperate to fill her hollow stomach, she placed the damp handcloth over her hair.
Rahab giggled as Bilkis sat beside her, then passed the serving dish to her.
"We rest through the day tomorrow," Eliam said, his voice nearly lost amid the sounds of Bilkis's chewing. "The day after that, you may return home."
Bilkis nodded absently as she took a greedy swallow of watered wine from the cup Rahab offered her.
"However  … "
Bilkis drained the cup and devoured another piece of bread laden with chickpeas before she realized Eliam was looking at her expectantly.
"However?" she said, speaking around her full mouth.
"You are, of course, free to go," Eliam said, "but perhaps you would honor us with your company on our journey. Your gods have dealt harshly with your lands of late, no?"
"So harshly," Leah interjected, "what little we took in trade will not begin to cover the expense of this trip."
"It is true," Eliam said with a heavy sigh. "The journey has been a hardship, though it would be made easier by the richness of your company. The road before us is long, but at its end is Urusalim in Yisrael, a land of gardens and streams of endless water. Come. Abide with us for a time. See how our gods bless us. When we have gathered enough trade goods for another trip, we will return you to your people. It will take some time." The trader rolled a bit of bread between his fingers. "Two years? No more than four."
Bilkis stared into the candlelight. She brushed her fingers across the smooth silk threads of her sitting rug. Her own silk robe was new, but the cloth had been taken in trade years before. It hadn't the sheen of Rahab's or Leah's robes, or the softness of the rug.
She thought of the sands of Saba, the grimy walls of Maryaba.
She took the wine cup from Rahab and brought it to her lips. She drank and swallowed.
"Tell me more of Urusalim."

About the Author
Marc Graham studied mechanical engineering at Rice University in Texas, but has been writing since his first attempt at science fiction penned when he was ten. From there, he graduated to knock-off political thrillers, all safely locked away to protect the public, before settling on historical fiction. His first novel, Of Ashes and Dust, was published in March 2017.
He has won numerous writing contests including, the National Writers Association Manuscript Contest (Of Ashes and Dust), the Paul Gillette Memorial Writing Contest – Historical (Of Ashes and Dust, Song of Songs), and the Colorado Gold Writing Contest – Mainstream (Prince of the West, coming from Blank Slate Press in Fall 2019).
He lives in Colorado on the front range of the Rocky Mountains, and in addition to writing, he is an actor, narrator, speaker, story coach, shamanic practitioner, and whiskey afficianado (Macallan 18, one ice cube). When not on stage or studio, in a pub, or bound to his computer, he can be found hiking with his wife and their Greater Swiss Mountain Dog.
Blog Tour Schedule
Tuesday, April 16
Review & Interview at Passages to the Past
Wednesday, April 17
Review at Pursuing Stacie
Feature at The Caffeinated Bibliophile
Thursday, April 18
Review at Bookfever
Excerpt at Maiden of the Pages
Friday, April 19
Feature at What Is That Book About
Guest Post & Excerpt at To Read, Or Not to Read
Saturday, April 20
Excerpt at Spellbound by History
Monday, April 22
Review at Historical Fiction with Spirit
Tuesday, April 23
Review at 100 Pages a Day
Wednesday, April 24
Review at A Chick Who Reads
Thursday, April 25
Feature at Let Them Read Books
Guest Post at Myths, Legends, Books & Coffee Pots
Friday, April 26
Review at Red Headed Book Lady
Tuesday, April 30
Review & Excerpt at Clarissa Reads it All
Wednesday, May 1
Review at Library of Clean Reads
Friday, May 3
Review at Historical Fiction Reviews
Monday, May 6
Review at Just One More Chapter
Tuesday, May 7
Feature at CelticLady's Reviews
Thursday, May 9
Excerpt at Kimber Li
Friday, May 10
Review at History from a Womanís Perspective
Monday, May 13
Review at Curling up by the Fire
Tuesday, May 14
Review at Amy's Booket List
Wednesday, May 15
Feature at Donna's Book Blog
Friday, May 17
Review at Coffee and Ink
Interview at Myths, Legends, Books & Coffee Pots
Giveaway
During the Blog Tour, we will be giving away two paperback copies of Song of Songs! To enter, please use the Gleam form below.
Giveaway Rules
–Giveaway ends at 11:59 pm EST on May 17th. You must be 18 or older to enter.
–Giveaway is open to the US & Canada only.
–Only one entry per household.
–All giveaway entrants agree to be honest and not cheat the systems; any suspicion of fraud is decided upon by blog/site owner and the sponsor, and entrants may be disqualified at our discretion.
–The winner has 48 hours to claim prize†or new winner is chosen.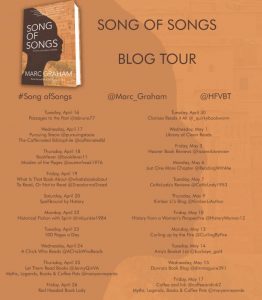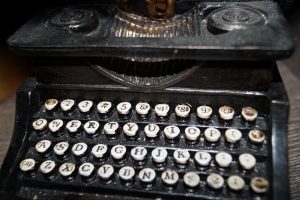 Today I'm focusing on the importance of research as a historical fiction author. When I decided to write my series A Slave of the Shadows, it started from my interest in the antebellum era because many aspects of it were reflected in my childhood.
Though I've studied the antebellum era of US history thoroughly, I certainly don't claim to know every detail and I strive to learn more each day. Over the years, I've visited many plantations and museums across America. I've found my visits to be informative and inspirational, but I derive most of the information for my stories from historical books, documents, and maps. Educating yourself by wading through a mass of records can be daunting, especially with so many gray areas and years where documents seem to contradict one another.
Before I started developing characters and plotting A Slave of the Shadows, I visited Charleston, South Carolina. It was at this point I began contemplating if my protagonist Willow would be a plausible main character against a background where the barbaric slave trade was a thriving business in the South. However, it was during this trip I learned of the valiant Grimké Sisters. These two white women were raised in Charleston during the height of the slave trade, and they openly protested cruelties they witnessed against blacks. As a result, they became advocates for abolition and women's rights. Their bravery in taking a stand against injustice when females didn't have a voice or position of power, ultimately inspired me to pursue my character development of Willow. This courageous account of the Grimké sisters affirmed my dream of painting Willow as I first envisioned her. 
My goal in writing this series was to shine a unique light on a period of history where Southerners are generally perceived as abusive slave owners. This simply wasn't the case because plenty of Southerners were poor, illiterate, and couldn't even afford slaves. In truth, some owners unleashed unthinkable cruelties, but others worked to keep their slaves content, feeling a better profit would result. In the minority were the Grimke sisters and my own character Willow, disagreeing with the system altogether, despite being raised in a climate supporting its values. 
From our vantage point, there is a danger in looking at the negative exploits of the past and generalizing the actions of its participants. It is essential when painting the portrait of an era to shed truth on the dynamic nature of all people involved. My job as a historical fiction writer is to depict a time period with unbiased accuracy and authenticity as much as possible based on documents and records. So, I must find a balance in weaving historical data into a tale while still intriguing and connecting with my readers. I love history, but I don't want my audience to feel like they're in a history class when they read one of my books or novellas. The beauty of being an author is the freedom to craft stories within a historical context that keeps people turning the pages. These are the stories I gravitate to myself, and I want to share the same experience with my audience. 
I also feel it is my duty as a writer to honor and protect the truth of atrocities inflicted on enslaved people during the antebellum era. Many were stripped of their power in dehumanizing ways, but thankfully they rose from bondage to take a stand as more equal members of society. It is for this reason, investing time into historical research is so vital to the work I do as an author. 

Over the past week, I've posted stunning images of Nottoway Plantation on my social media accounts, but there is one photo I've waited to share with you—the staircase leading up to the butler's pantry. These stairs were used by slaves to carry food to their masters and mistresses. Notice how they dip in the center. While visiting the plantation, I learned the Nottoway family didn't abuse their slaves like other owners. Despite the common misconception all slave owners were hard-hearted, historical documentation suggests several slave masters were kind and fair. This extension of grace was certainly a blessing to a bondservant. Nonetheless, the injustice of slavery should never be overlooked. This staircase reminds me that beyond the beautiful homes and interesting artifacts, lies a history of oppression and prejudice inflicted on a group viewed as subhuman. It is the resiliency of those enslaved that continues to captivate my heart and drive my passion for writing about the antebellum era.