Over the past week, I've posted stunning images of Nottoway Plantation on my social media accounts, but there is one photo I've waited to share with you—the staircase leading up to the butler's pantry. These stairs were used by slaves to carry food to their masters and mistresses. Notice how they dip in the center. While visiting the plantation, I learned the Nottoway family didn't abuse their slaves like other owners. Despite the common misconception all slave owners were hard-hearted, historical documentation suggests several slave masters were kind and fair. This extension of grace was certainly a blessing to a bondservant. Nonetheless, the injustice of slavery should never be overlooked. This staircase reminds me that beyond the beautiful homes and interesting artifacts, lies a history of oppression and prejudice inflicted on a group viewed as subhuman. It is the resiliency of those enslaved that continues to captivate my heart and drive my passion for writing about the antebellum era.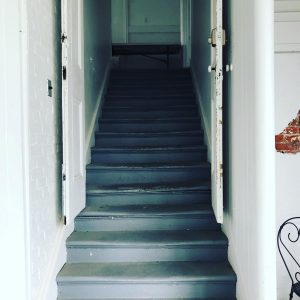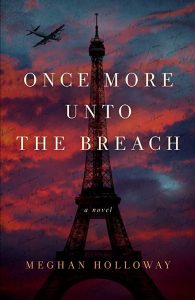 Publisher: Polis Books
Pages: 320
Genre: Historical Fiction
Preorder Amazon
Preorder B & N
"A brilliant debut novel that kept me turning pages."
For readers of The Nightingale and Beneath a Scarlet Sky comes a gripping historical thriller set against a fully-realized WWII backdrop about the love a father has for his son and the lengths he is willing to go to find him, from a talented new voice in suspense.
Rhys Gravenor, Great War veteran and Welsh sheep farmer, arrives in Paris in the midst of the city's liberation with a worn letter in his pocket that may have arrived years too late. As he follows the footsteps of his missing son across an unfamiliar, war-torn country, he struggles to come to terms with the incident that drove a wedge between the two of them.
Joined by Charlotte Dubois, an American ambulance driver with secrets of her own, Rhys discovers that even as liberation sweeps across France, the war is far from over. And his personal war has only begun as he is haunted by memories of previous battles and hampered at every turn by danger and betrayal. In a race against time and the war, Rhys follows his son's trail from Paris to the perilous streets of Vichy to the starving mobs in Lyon to the treacherous Alps. But Rhys is not the only one searching for his son. In a race of his own, a relentless enemy stalks him across the country and will stop at nothing to find the young man first.
The country is in tatters, no one is trustworthy, and Rhys must unravel the mystery of his son's wartime actions in the desperate hope of finding him before it's too late. Too late to mend the frayed bond between them. Too late to beg his forgiveness. Too late to bring him home alive.

About the Author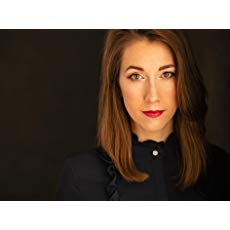 Meghan Holloway found her first Nancy Drew mystery in a sun-dappled attic at the age of eight and subsequently fell in love with the grip and tautness of a well-told mystery. She flew an airplane before she learned how to drive a car, did her undergrad work in Creative Writing in the sweltering south, and finished a Masters of Library and Information Science in the blustery north. She spent a summer and fall in Maine picking peaches and apples, traveled the world for a few years, and did a stint fighting crime in the records section of a police department.
She now lives in the foothills of the Appalachians with her standard poodle and spends her days as a scientist with the requisite glasses but minus the lab coat. Follow her at @AMeghanHolloway.
The Winnowing by Jo Schaffer
(Stanley & Hazel, #2)
Published by: Month9Books
Publication date: February 26th 2019
Genres: Historical, Young Adult
Darkness descends over St. Louis, a city already rocked by the Great Depression. More and more people are disappearing, and some have turned up dead.  A sinister secret society is putting forward their plan known as "The Winnowing," designed to wipe out those they consider "undesirable."

After Stanley and Hazel foil the diabolical plans of Charles Chouteau, they become instant celebrities. Hazel is thrust into the role of debutante, and risks loses herself in it. Meanwhile, Stanley must deal with the horrific tragedy of his best friend's death while being threatened by the unseen forces of the Veiled Prophet.

With things spiraling out of control, Stanley and Hazel's relationship is tested, possibly beyond repair. As bodies pile up, people become more desperate. The divide between wealthy and poor grows ever wider, threatening to tear their worlds apart. Now, the two must find a way to work together if there is any hope at all of saving their relationship and their futures.
Goodreads / Amazon / Barnes & Noble / Kobo / Google Play
—
BOOK ONE Excerpts:
Stanley turned to her, curious. "Tell me. Where did you see me before? Perhaps on the golf course or having martinis at the club with the mayor?"
Hazel scoffed. "Selling papers, silly."
Stanley's face warmed. "Oh. That's just my cover. I'm actually an international spy."
"There's no shame in selling papers," Hazel said.
"Yeah. Someday I'm going to write for the papers. Then, I'll work my way up to be a regular columnist. Someday I might even move into radio journalism or write for the newsreels."
"I bet you'd be good at it," she said.
That made his chest warm. "Yeah?"
"Sure. You seem smart. And you have a great voice for radio."
Stanley blushed. It was a good thing it was dark. "So what's it going to be for you? Ivy League college and marry a prince?"
Hazel let out a ragged sigh. "I hope not. I kinda had my heart set on becoming a pirate."
Stanley chuckled. "Is that a fact?"
Her eyes twinkled when he looked at her and then her face went serious. "Well, to be honest … I don't know. There's what's expected of me and then … there's that part of me that's just mine. The part that's a wild gypsy or an actress or a world traveling explorer who brings medicine and education to native tribes in exotic places."
Stanley grinned, liking her more every second. "Sounds like the interesting part."
Hazel nodded, a little frown tugging down her full lips. "My world is so little, Stanley."
He supposed it was. Seemed like being a swell would open the world up to you but maybe it didn't. Maybe it just confined you to Lindell and the "right places."
"Well it just got bigger, dollface," he said, gesturing to the large, dark expanse of the park.
"Yeah," she breathed. "And I can't see a thing."
"Just follow me." Stanley shoved his hands in his pockets, deep in thought.
 ––––
Hazel stumbled down the grassy hill of the moonlit park. Stanley glanced at her from several steps ahead. "You with me, Bananas?"
"Yeah." She swallowed back the urge to be sick. Hazel's legs moved her forward but nothing seemed real. She was in Forest Park at night with a newsie boy she'd just met and Sandy's runaway sister was back there, slumped against the statue of St. Louis with her head cracked open.
She couldn't make her brain take it all in. Evelyn's face—caved in on one side, her mouth slack, teeth showing like gravestones covered in blood. Gripped with panic, Hazel quickened her step to catch up with Stanley—her only guide in this darkness. He was a part of it. This was his world, not hers.
BOOK 2 Excerpts
The renegade newsie climbed on top of the metal box and forced the window open a crack with a crowbar he produced from his baggy trousers. Then he sat and lit a cigarette. He puffed on it a few times before reaching into the inside pocket of his oversized coat. He pulled out a bottle that sloshed with liquid and removed the cork.
He took a handkerchief and stuffed it into the bottle of liquid, leaving a tail of it hanging out of the top. Pinching his cigarette between two fingers, he contemplated the tip, while smoke trailed out of his nose.
Henri sniffed the air, and his ears perked. Before Hazel could stop the young dog, he jumped and let out a bark.
Arthur sprung to his feet, turning in Hazel's direction.
Bananas. She squeezed her eyes shut, hoping he wouldn't see her where she crouched.
"Peek-a-boo," Arthur said, slow and deliberate. "I see you, Princess."
Knees shaking, Hazel slowly stood to face him. She gripped Henri's leash. He was her only defense.
"Where do you go, Hazel Malloy?" Gabriel said in her ear.
"What?"
"I can feel you thinking hard." He chuckled.
Hazel smiled. "I like this song," she said, embarrassed as though he could actually tell that he'd caught her thinking about him.
"I do too." He pressed his cheek to hers, and she let him.
As the song ended, there was a slight disturbance from the far end of the room. Hazel glanced up, and her heart paused.
Bananas.
Stanley stood in the entrance of the conservatory, tall and suited up, a hard look on his face, one eye almost swollen shut. He was flanked by some of his Knights, looking rough and out of place in suits, smirks on their faces as they scanned the room. It was like Eliot Ness and his Untouchables about to raid.
The "good people" of St. Louis stared uneasily and made way as the boys stalked into the room. Hazel sometimes forgot what they must look like to everyone else. They were a tough looking lot, battle scarred, and imposing.
The song ended and in the pause before the next one began, Stanley took long strides across the room, toward where Hazel and Gabriel stood, still holding hands.
Stanley's eye twitched. "Heya, Haze." He tilted his head toward Gabriel. "If it isn't soft slugger trying to get to first base." His jaw flexed, and he breathed in through his nose, and Hazel knew he was counting to ten.
Gabriel released Hazel's hand and calmly replied, "Good to see you, Fields. You clean up nice."
Author Bio:

Jo Schaffer was born and raised in the California Bay Area in a huge, creative family. She is a YA novelist, speaker, writer at Patheos.com, works in film production and is a Taekwondo black belt.

She's a founding member of Writers Cubed and co-founder of the Teen Author Boot Camp, one of the largest conferences in the nation for youth ages 13-19. She and a crew of local and international bestselling authors present writing workshops to hundreds of attendees at the Utah-based conference as well as hundreds of others worldwide who view the conference online.

Jo loves being involved in anything that promotes literacy and family. She is passionate about community, travel, books, music, healthy eating, classic films and martial arts. Her brain is always spinning new ideas for books and sometimes she even gets around to blogging.

Jo is mom to three strapping sons and lives in the beautiful mountains of Utah.
GIVEAWAY!
a Rafflecopter giveaway