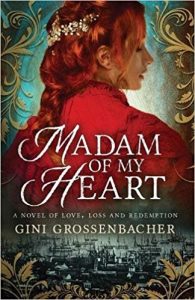 Publication Date: February 3, 2017
Genre: Historical Fiction
Ebook & Paperback
Pages: 474
Book Description
Baltimore, 1849. During a scandalous crisis, the young Irish Brianna Baird flees her home at Fells Point. With little cash and only a seamstress's trade, she braves the hypnotic streets of New Orleans. The tantalizing Madam DeSalle lures her to her brothel, then sells her to the dashing but questionable gambler, Edward Spina, who falls in love with her. In a tawdry alliance with these two profiteers, Brianna embarks on a journey through the French Quarter's debauched and glittering Voodoo world. Facing the horrors of slavery, she triumphs by gaining freedom papers for her maid Emma's enslaved husband and son. Brianna and Edward escape with them to San Francisco. There she becomes one of the most sought after madams in the gold rush parlor house trade. But will her fame and pluck be enough to save Edward from the Vigilante noose? This is the first book in the American Madams series.
Praise for the Author
"A debut historical novel that chronicles the struggles, loves, and joys of an exceptional madam in 19th-century America. Grossenbacher's book, the first in a planned series, dramatizes the early life and busy career of a woman named Brianna Baird. Raised in Baltimore in the decades before the Civil War, Brianna dreams of one day growing up to own a seamstress shop and marry a sweet man of virtue. But her plans unravel after she meets young Spenser Brown, a sweet-talking violinist who leaves her pregnant and betrays the promises he made…. Alone and knowing little of the world, she travels to New Orleans and finds work at the notorious parlor house of Madam DeSalle. There, she earns her keep first as a seamstress and later as the exclusive courtesan of gambler Edward Spina…. "Grossenbacher's prose is both graceful and inventive. She absorbingly limns the various cities Brianna inhabits, from New Orleans and its 'web of Creole cottages, chaotic marketplaces, and secretive balconies, simmering outside her window, ' to the rowdy atmosphere of frontier-era San Francisco. The occasional marvelous metaphor will surprise readers, as when 'the truth hit Brianna like a badly aimed bowling pin.' "This isn't just a novel for lovers of history's more prurient corners; it's for everyone who likes well-deployed language and intense stories. A seamier side of American history, engagingly told through one woman's unexpected adventures." –Kirkus Reviews, A Recommended Review
My Review: Madam of My Heart is a beautifully written piece of art. There is no denying the author has a way with words and this novel captivates you in the magic. The research Gini did for this novel was extensive, and it shows. Madam of My Heart is rich in the description which I love, but in this story, it became the one negative for me. At times I found myself skipping over the description to get the action and dialogue. Too much description sometimes made the story feel drawn out and boring, and because of this, it slowed the pacing of the story.
The teenage protagonist, Brianna, is a likable character overall and I enjoyed following her story. I also enjoyed her love interest, Edward. However, the story didn't get started for me until they moved to San Fransisco.
As a debut novel for this author, I think the book was a fantastic start, and I'll be looking for the release of the second novel in the series. Oh, and I adore the cover. Recommended.
⭐️⭐️⭐️1/2
About the Author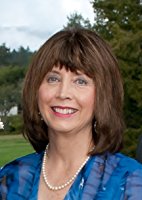 California author GINI GROSSENBACHER was a successful high school English teacher until she abandoned grades and term papers, choosing to write historical novels instead. Now she leads small writing groups and coaches other writers. She loves researching the history behind her novels, and enjoys traveling to the setting where they take place. Her hobbies include needlepoint, nature walks, and Scrabble. She lives in the Sacramento Valley where she grew up, east of San Francisco.